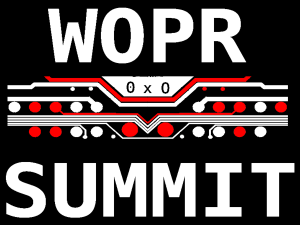 On March 1st, 2019, an eclectic group of diverse individuals descended upon Bally's Hotel in Atlantic City, NJ. Their purpose? Attending a new conference melding hardware, software, and security. A conference called WOPR Summit.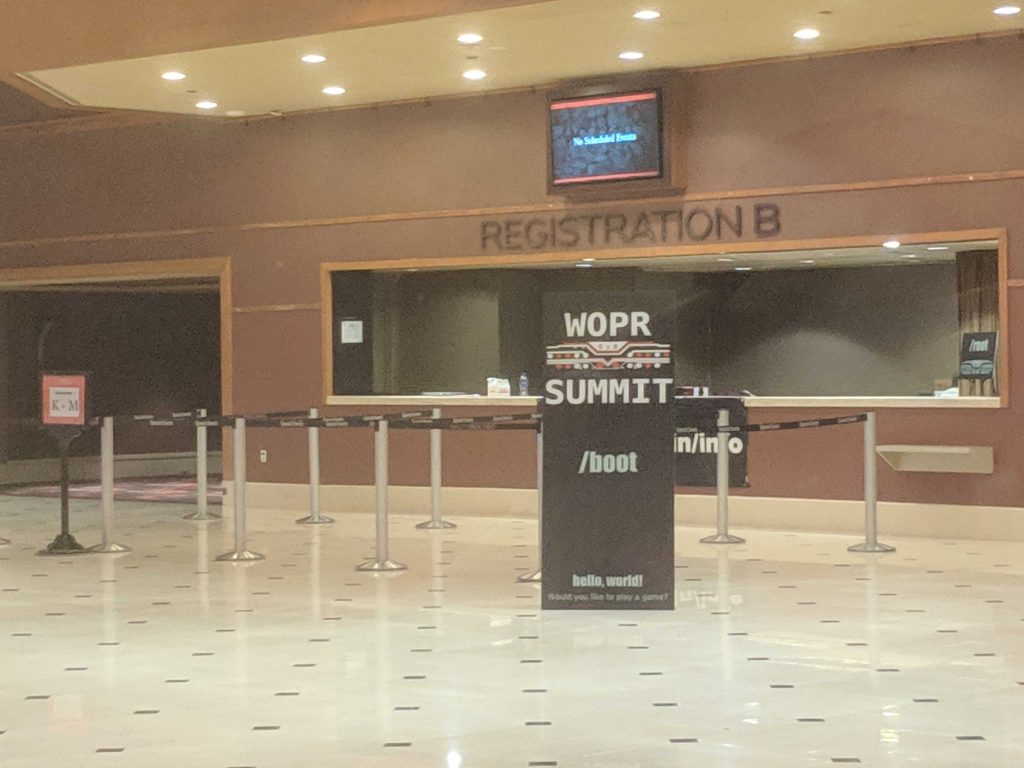 I had the good fortune to both attend and volunteer at this fledgling conference. Upon arriving at the registration desk, attendees were greeted by yours truly who provided them with lanyards, stickers, and a badge that doubles as a maker project.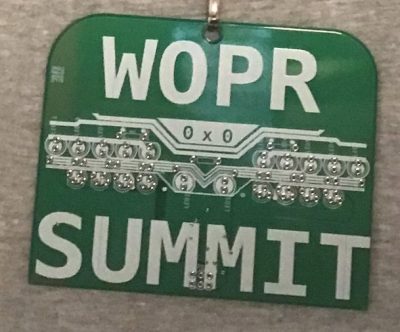 The badge is both an attendees pass into the event as well as a PCB. Throughout the conference, attendees could hang out in the maker space and were provided with all of the parts, tools, and directions necessary to build their badge. When completed, a quick visit to Dragorn or Dr Russ was necessary to flash the badge processor with some Arduino code that made the lights blink in an awfully suspicious sequence. Almost as if there were a hidden message. Hrm…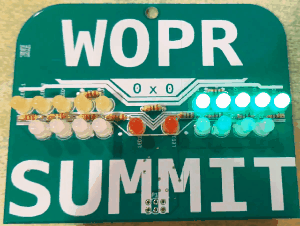 And for those unfamiliar with the black art of soldering, fear not! BiaSciLab to the rescue! Our resident soldering instructor, Bia, held several soldering workshops throughout the conference, providing detailed instruction on how to become a master at fusing small metal bits together with a strong bond of liquid metal. Bia is an amazing teacher and was able to help a lot of people learn this essential life skill. She even brought her own soldering kits that you can read about here.
Not into making things? Not to worry, we had that covered as well. Throughout the conference there were both talks and workshops on a variety of topics. Workshops included topics such as NFC hacking, monitoring and incident response using OSQuery, developing prototypes, and reverse engineering. Talks covered similar topics including presentations on Shodan, biohacking with c00p3r, and a peek behind the scenes of the security industry.
Overall, the conference was an amazing success and quite well run for a first-time con. There are a lot of lessons learned and many suggestions on how to improve it for next year. Planning has already begun and we hope to see you there!